And then there is the matter of how our feelings about books change over time. I struggled through Babbitt as a high-schooler, but I've reread it voluntarily as an adult, and like it much better now. Some books I started out liking, but have grown to love upon subsequent rereads.

And then there are the books that lose something upon rereading. The main character who seemed so romantic is just annoying now. The fantasy world that once fascinated has become a bit of a yawn. Previously unnoticed racist subtext oozes to the surface.

We change, and the world around us changes, so there's no wonder our feelings about books change. If I did rate books, they would probably not carry a single number, but a graph of numbers, charting my rising and falling assessment over time.

It brings home to me like nothing else how subjective ratings can be, how personal our responses to books are sometimes.
I don't give numbered ratings to books, and one reason is that I'm not sure how I would rate them anyway. There are a few books that I know I would give 5 stars to, if I did rate them, but mostly I just can't decide. My internal discussion would go like this: "Wow, that was good ... better than average. But not as good as my ultra-favorite books. But it's better than four stars ... four and a half? Maybe?" Or, "Well, that was okay. Nothing special, but okay. But if I were to give it two stars, that would sound as if I liked it less than I actually did." Or, "That was really well-written and I admire what the author did, but I just didn't love it. It didn't hit me at the gut level." Or, "This book really spoke to me, though I'm not sure how universal its appeal would be." How could I put a number on those reactions?
Read The Worlds We Make early!
The Worlds We Make is out in just a couple months now, and I haven't been able to offer advance copies so far because Hyperion likes to keep their final trilogy books closely under wraps.
But I've just gotten the go-ahead to offer a very special giveaway! One reader will get an e-galley of The Worlds We Make, to read before just about anyone else gets their hands on the book.
How to enter
Do any (and as many as you want) of the activities in the Rafflecopter giveaway below. Please read the instructions for each! And keep in mind that posts to Twitter, blog, and other social media accounts set up only for contest entries do not qualify.
Any restrictions?
The giveaway is open to everyone in the world. Yay! But you will need to sign up for a (free!) NetGalley account to access the e-galley if you win, and be able to read e-book files on your computer or an e-book device.
Any questions? Just ask in the comments.
Originally published at another world, not quite ours - Megan Crewe's blog. You can comment here or there.
The folks I worry about the most in this situation are the teachers new to the profession. During a talk back to CCSS session at NCTE, the question was raised: how can new teachers voice concerns and be heard without being fired? The question has come up time and again as I talk to preservice and inservice educators. Many are feeling helpless (and how far away is hopeless then I wonder?). Of course, there is no blanket answer here. But I would like to make a few suggestions.
Maybe it would be good to keep a list of problems encountered when utilizing the materials that have been mandated for meeting the standards. Are there some standards that demand something that is developmentally inappropriate? Do some materials seem confusing (see this post from Diane Ravitch:
http://dianeravitch.net/2013/12/11/amy-prime-what-is-the-right-answer-to-this-test-question/
)? Are materials used in the past being removed from the classroom, district, etc?
Demand that your professional organizations become more critical. I have been supremely disappointed in some of the responses to CCSS on the part of AFT, NCTE, and IRA in particular. I need my professional organizations to represent my concerns, to speak out about the flaws in CCSS. Unfortunately, too many of the organizations seem to be climbing on board the CCSS bandwagon. I hope they have some spare parts for when the wheels come off as they surely must down the road. Write letters to the heads of these organizations. Express your concerns. Talk about how implementation is going awry. Describe student reaction. If the response is not forthcoming, express concern in a different way: cancel your membership.
Most of all, though, I would encourage you to speak up in any way possible. Express concerns at department and faculty meetings. Ask questions. Question decisions. I know it is not always easy to speak up, especially in light of possible retaliation. But we must speak up for the kids if not for ourselves.
The headline for the post read: TEACHERS FACE RETALIATION FOR CRITICIZING COMMON CORE. I would not have thought it possible except for recent conversations with teachers from a wide array of states who report that they have been, for all intent and purpose, silenced. I understand the need to be a team player, to follow district procedures, and the like. But the edict that no word may be uttered questioning a curriculum that had little (none, really) teacher input, that was handed to districts nationwide, and that has some serious flaws? That is censorship.
Current Location:

HOME!

Current Mood:

worried
If you can't see the video embedded above,
click here to watch the book trailer!
I am very much looking forward to the spooky new graphic novel trilogy
Cemetery Girl
by Charlaine Harris and Christopher Golden, illustrated by Don Kramer.
Cemetery Girl Book One: The Pretenders
comes out on January 7th. Here's the premise:
She calls herself Calexa Rose Dunhill – names taken from the grim surroundings where she awoke, bruised and bloody, with no memory of who she is, how she got there, or who left her for dead.

She has made the cemetery her home, living in a crypt and avoiding human contact. But Calexa can't hide from the dead – and because she can see spirits, they can't hide from her.

Then one night, Calexa spies a group of teenagers vandalizing a grave – and watches in horror as they commit murder. As the victim's spirit rises from her body, it flows into Calexa, overwhelming her mind with visions and memories not her own. Now Calexa must make a decision: continue to hide to protect herself – or come forward to bring justice to the sad spirit who has reached out to her for help...
Read an excerpt at the Penguin website.
The Cemetery Girl series is published by InkLit, a division of Penguin Books.
I just learned that
GoodReads is giving away ten copies of Book One.
Neat!
Current Mood:

awake

Current Music:

Annie's Always Waiting (For the Next One to Leave) by Matt Nathanson

All Lara has ever wanted is to be the next kennel steward after her father and breed prize hunting borzoi's fit for the Tsar, but when her baby brother is born and her future is in question, she must decide if she should keep her visions that connect her to the dogs a secret or share her knowledge to keep her place among the magnifcent animals. The historic period and details of the borzoi feel very real and well-researched. Lara is a brave, smart girl who makes the reader want a borzoi puppy of their own. A lovely MG for history and dog lovers. (Knopf, 2013)
LARA'S GIFT by AnneMarie O'Brien
http://blbooks.blogspot.com/2013/12/better-to-wish-2013.html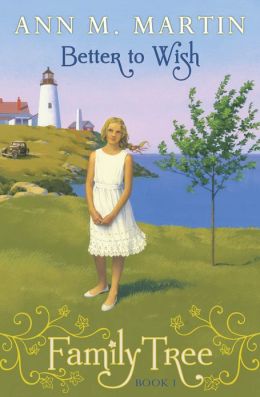 Better To Wish. (Family Tree #1) Ann M. Martin. 2013. Scholastic. 240 pages. [Source: Review copy]
I definitely enjoyed reading Ann M. Martin's Better To Wish. I connected with Abby almost from the start. I thought Abby was a very grounded character, there was depth and substance to her. I enjoyed reading her memories, the short vignettes of the moments through the years that changed or defined her.
Some chapters were quite ordinary: the small moments, the ones that you almost never appreciate until much later. Some chapters were focused on holidays (or birthdays): Thanksgiving, Christmas, Halloween, Fourth of July, etc.
Other chapters were quite dramatic, the moments where you know that life will NEVER be the same again no matter how hard you wish or how big you dream. I liked the focus on family, friendship, and community. Readers meet Abby exactly as she is in her closest relationships. Loved seeing Abby's relationship with her sisters, her mother, and her best friend. All the characters felt authentic, felt human. Martin has done a great job in bringing this time period to life. I would definitely recommend this one. I look forward to the others in the series!
© 2013 Becky Laney of
Becky's Book Reviews
From now through March 1st, YALSA is collecting volunteer forms from members who would like to serve on process committees, advisory boards and juries that will work from July 1, 2014 through June 30, 2016. All participation is virtual, so members must be skilled at using online tools like Google Docs, Google Hangout, ALA Connect, Skype, etc. The volunteer form is at:
http://www.ala.org/CFApps/Committee/volunteerform/volunteerform2.cfm?group1=YALSA
. The following groups are seeking new members:
JURIES
Books for Teens Jury
BWI/YALSA Collection Development Grant Jury
Conference Travel Scholarships Jury
Frances Henne/VOYA/YALSA Research Grant Jury
Great Books Giveaway Jury
MAE Award for Best Literature Program for Teens Jury
Volunteers of the Year Award Jury
Writing Award Jury
BOARDS
Continuing Education Advisory Board
JRLYA Advisory Board
Publications Advisory Board
The Hub Advisory Board
Website Advisory Board
YALS Editorial Advisory Board
YALSAblog Advisory Board
COMMITTEES & TASKFORCES
Division and Membership Promotion Committee
Financial Advancement Committee
Joint School/Public Library Cooperation Committee
Legislation Committee
Annual Conference Marketing & Local Arrangements Taskforce (seeking members in the San Francisco area)
Organization and Bylaws Committee
Research Committee
Teen Read Week Committee
Teen Tech Week Committee
Teens' Top Ten Committee
Awards and Lists Marketing Taskforce
Mentoring Taskforce
National Guidelines Oversight Committee
Summer Reading & Learning Taskforce
Learn more about committee service at:
http://www.ala.org/yalsa/getinvolved/participate
.
Looking to get involved with YALSA, but unable to travel to Midwinter and Annual? Love working with digital tools to connect with colleagues to share ideas, best practices, and more? Well, now's the time to volunteer to serve on a YALSA process committee and do the outstanding work that moves YALSA forward as an innovative and exciting division!
This week's blog challenge topic is "things you love".
All right then. This will be a fun one because it will encourage me to think positively, something I have a hard time with when it gets colder out.
Things I Love

aidan · adam · my mommy · my family
my kitties · my friends · Pandernoodle · Boji
reading · laughing · shopping · writing
buying new books · going to the library
spaghetti · sushi · tater tots
disney world · traveling · trees
taking pictures · doing yoga · giving gifts
when people tell me i'm pretty
getting my picture taken · being on tv/movie sets · action!
curly hair · sparkling eyes · awesome socks · geeky toys
dharma talks · mysticism · kirtan · spirit
dolls · teddy bears · princesses · faeries
pink · purple · silver
christmas · autumn leaves · blue skies
summertime · hot days · starry nights · crescent moons
I also love getting comments, so please comment and tell me what you love!
(Originally posted at http://anywhere-is.net. Comment here or there.)